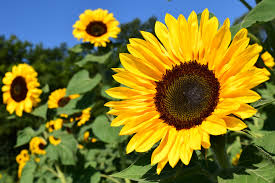 For the 20-21 school year: To meet family demand for more outdoor-only FTCNS experiences, Families Together is offering Sunflowers, a fun-filled outdoor drop-off program led by FTCNS teachers for current or alumni FTCNS students ages 3-6. Sunflowers will include group activities, a simple optional snack, and lots of time for free play. Sunflowers takes place in our beautiful front courtyard–our new outdoor play space equipped with kid-friendly building, climbing, and natural materials! The program will take place entirely outdoors, with students going indoors only if they need to use the bathroom.
Program Elements
For current or alumni FTCNS students, ages 3-6.

Children must be 3

to start the program. 

Sunflowers students will need to have complete paperwork on file in order to participate.

Sunflowers is capped at 14 students and has a 1:7 student/teacher ratio. 

Sunflowers will generally take the "we play in all kinds of weather," approach but if the weather presents a danger or makes being outside for 1.5 hours unbearable, teachers may opt to cancel Sunflowers for that week. We reserve the right to cancel one class per session without a make-up or refund. If more than one class per session has to be canceled, teachers will either schedule a make-up class on a different day or the school will offer tuition refunds.

There will not be a parent/caregiver assist requirement or role. 

Due to health and safety regulations, we will not be able to accommodate drop-in students and students will be required to wear a mask at all times except when eating and physically distanced 6 feet + from other students.
Fall & Spring Sessions and Cost
Fall and Spring 11-week Sessions, Tuesdays, 3:45 to 5:15 p.m.
Fall Session:

Week of 9/7 through week of 11/24 (no class on 11/3)

Spring Session:

Week of 3/8 through week of 5/24 (no class on 3/30)
If interest is greater than spots available,

a blind lottery will be conducted

. Students who apply and do not get a spot in Fall Sunflowers will get priority enrollment for the Spring.

The cost is

$340 per session with limited financial aid available.