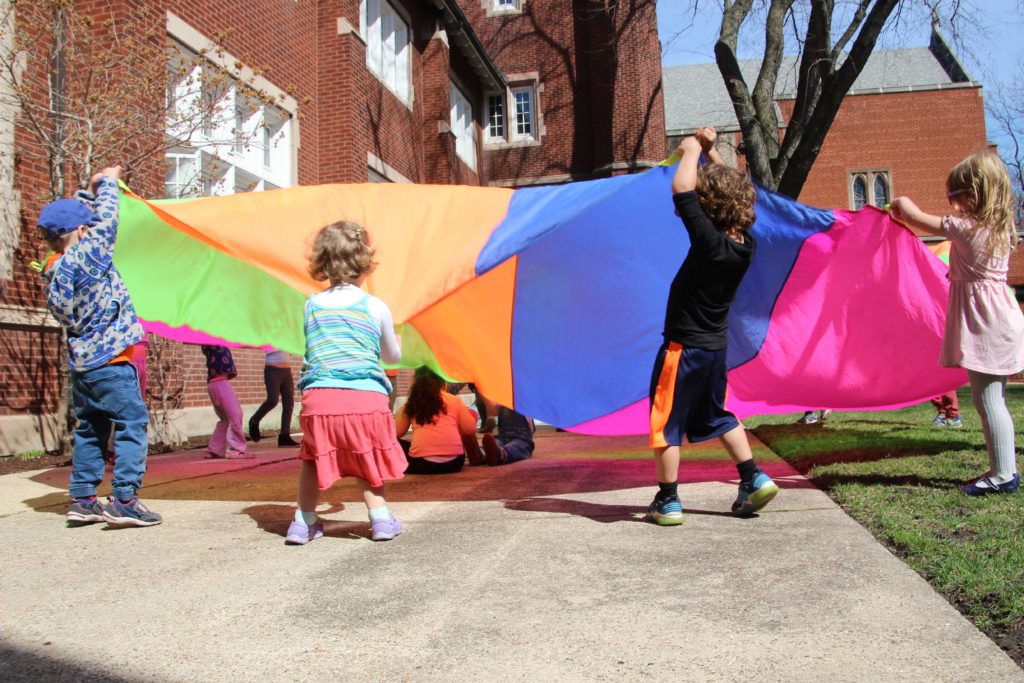 NOTE: Sunflowers Afterschool Program will not be offered in the 2021-2022 school year.
Our Sunflowers Afterschool Program runs Monday through Wednesday from 3:30 to 5:30 p.m.  Sunflowers offers a great late afternoon program for current FTCNS students ages 3 1/2 and up and for alums up to age 6. To enroll in Sunflowers, students must be enrolled in a Core Class, Birches, or be an FTCNS alum.
Program Elements
The program takes place in the gym, front courtyard, and classroom space and includes lots of time for unstructured outdoor play, in addition to art activities, games, stories, a snack, and rotating play experiences.
Drop-off/Pick-up
Morning students and alums can be dropped off for Sunflowers beginning at 3:30 p.m. Sunflowers students enrolled in our afternoon classes will be picked up from their afternoon class by FTCNS staff at 3:30 p.m. (for Maples) or at 4:00 p.m. (for Oaks).  Students can be picked up as late as 5:30 p.m. or earlier. 
Snack
FTCNS provides a nut-free whole wheat fig bar as a snack. Students are welcome to bring extra nut-free snack items if desired and should always bring a water bottle from home.
Eligibility/Readiness
Sunflowers students need to be at least 3 1/2 years old and no older than 6 years old to participate. To be able to thrive in Sunflowers, students will need to be: 
comfortable with transitions and different groups of kids

willing to gear up and play outside in all kinds of weather

confident in using the bathroom independently*

able to handle being away from a parent/caregiver 

not too tired/exhausted to enjoy an active late afternoon play-based program
*If your child is developmentally ready for Sunflowers, but not yet toilet trained, we may be able to accommodate them. Please contact our Director, Laura Pinsof, to discuss.
For more information on Sunflowers Afterschool Program, click HERE.