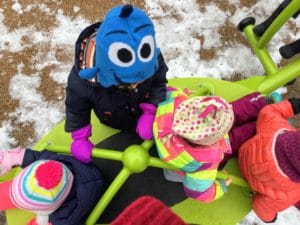 Families Together Cooperative Nursery School (FTCNS) is actively engaged in anti-oppression practices so that all children and families can have equitable access to our classrooms and co-op community and feel affirmed and welcomed in our school. We're committed to teaching ourselves and our children to identify and stand against racism, ableism, sexism, trans and homophobia, classism, ageism, and other forms of oppression.
In our classrooms, we are…
Increasing the number of books that feature typically under-represented perspectives and/or are written and illustrated by authors from under-represented backgrounds.
Expanding our use of music that brings under-represented voices into the classroom, giving accurate cultural context to the music we sing, and taking American children's songs that stem from the racist minstrel tradition out of our repertoire.
Taking time with our students to learn the stories and look at the pictures of specific artists, musicians, and authors from under-represented backgrounds.
Reimagining our treatment of typical preschool curricular topics (like transportation, family, construction, grocery store) to have a more global focus and to include broad representation of different groups.
Articulating and working towards clear anti-bias goals for student learning.
For our families, we are…
Developing and offering parent education that helps parents/caregivers understand the importance of anti-bias work with young children and implement anti-bias practices in their parenting.
Continually working to eliminate barriers to participation in social and community events such as inaccessibility, cost, or event themes or structures that do not reflect and respect the diversity of our community.
Seeking out ways to appropriately modify the assisting parent/caregiver experience for families with disabilities and limited English proficiency.
Offering expanded sliding scale tuition, an increased financial aid budget, and a more timely and transparent financial aid application and award process.
With our staff and parent leaders, we are…
Recognizing and naming the legacy of white supremacy and other forms of oppression in private schools and non-profits, the ways in which it has undermined and limited the potential of individuals and institutions, and the steps we can take to upend this legacy in our school.
Offering training so that board members, alumni, and staff can effectively lead for equity at FTCNS and in the larger community. Our entire board and staff has worked with Stacey Gibson of Transform the Collective and Biz Lindsay-Ryan, and individual staff and board members have participated in trainings including Beyond Diversity, SEED, various Chicago Regional Organizing for Anti-Racism (CROAR) trainings, Raising Race Conscious Children, SPEAK UP, and more.