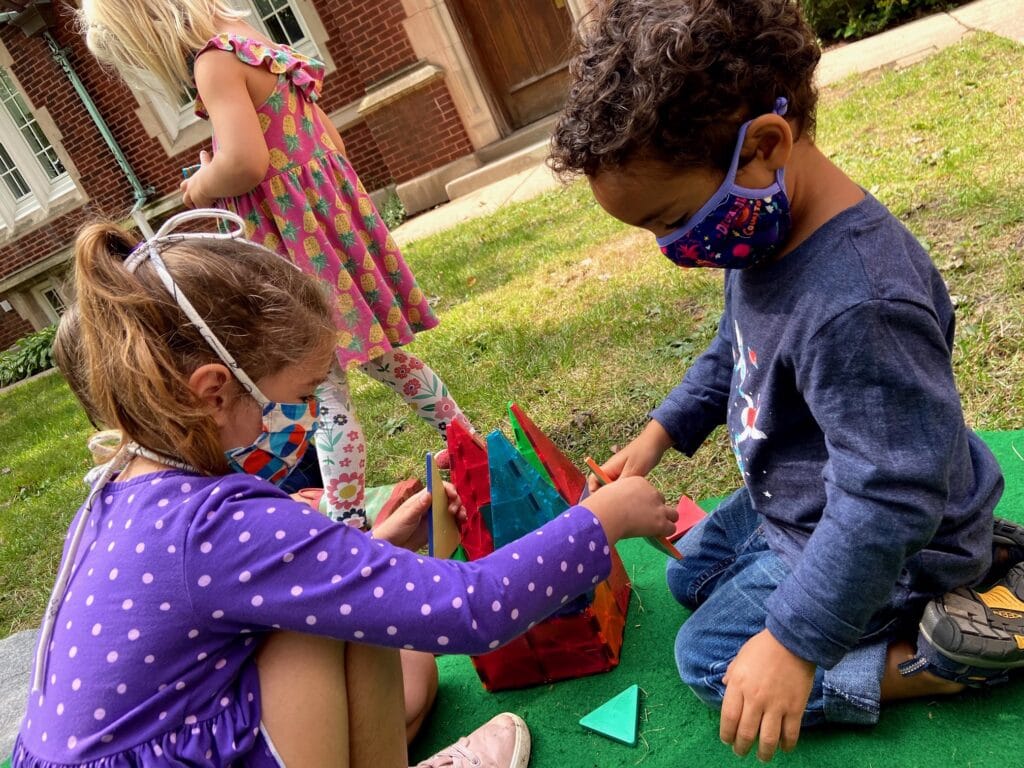 We are proud of how we have been able to adapt during the pandemic while retaining the core of our joyful, engaging play-based program. We remained open for in-person classes during the 2020-2021 and 2021-2022 school years. This has been possible due to some key pre-existing features of our classrooms and our ability to implement new health and safety procedures.
For the 2022-2023 school year: Considering higher risks and health needs of staff, students, and caregivers in our school community and the goal to keep everyone in school as much as possible, we will have optional masking indoors at Low and Medium COVID-19 Community Levels for the City of Chicago. If the City reaches a High Community Level, we will have universal masking indoors, regardless of vaccination status. Masking outdoors is optional at all Community Levels. We will continue the following safety precautions in 2022-2023 for as long as necessary:
Our very large, well-ventilated classrooms with high ceilings and windows that we keep open during the school day. 

Many beautiful outdoor spaces where we spend lots of time each day.

Students are physically distanced for snack time and lunch during Lunch Bunch.

Cleaning and disinfection before, during, and after the school day. 

All staff and parent volunteers in the classroom must be fully vaccinated against Covid-19.

The willingness of our families and staff to commit to limit their exposure and travel, comply with all CDC quarantine requirements, and stay home if anyone in their family is having Covid symptoms. 
While our commitment to authentic play-based learning has not wavered, we have had to adapt to ensure that we can fulfill this commitment while safeguarding the health of children, teachers, parents, and caregivers. We are incredibly grateful that the unique cooperative mission and spirit of our school has remained strong during this time of crisis, allowing us to lean on each other and embrace the understanding that keeping our community healthy is truly a shared responsibility.