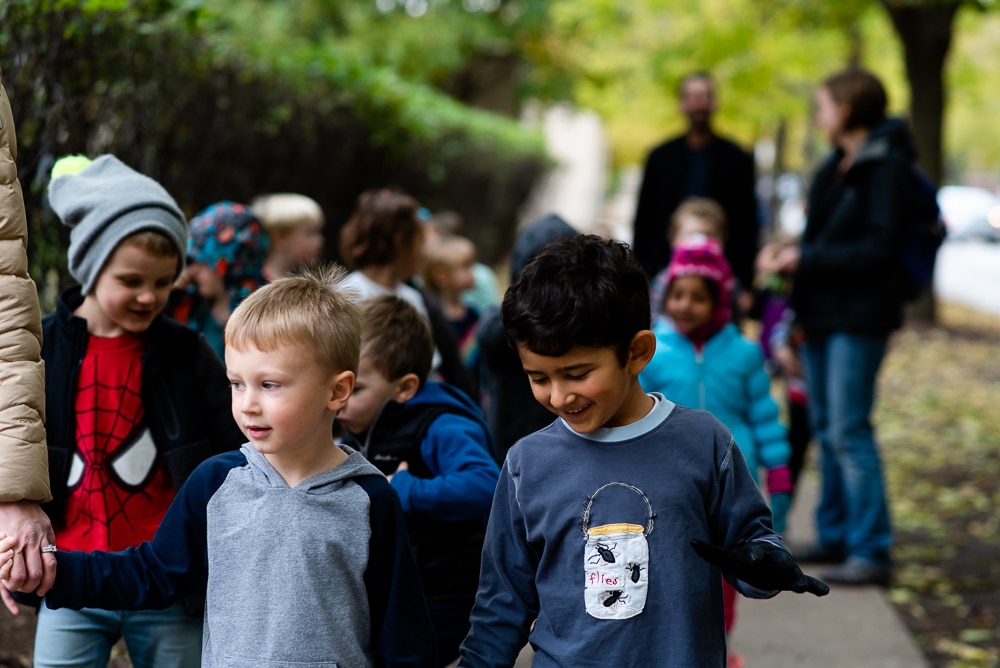 Junipers 2-DAY & Junipers 3-DAY are for our youngest students who are often experiencing school for the first time. Learning to be in a group setting, playing together, and negotiating social interactions are all important elements in Junipers. Students can enroll in 2, 3 or all 5 mornings of Junipers.
Willows is a mixed age class, 4 mornings a week. Younger and older children work together to scaffold learning with a large emphasis on social emotional development and community building. To support our older ages, we introduce skills that will ready our students as they progress to kindergarten.
Maples is a mixed age class that meets 3 afternoons a week. Maples offers meaningful peer learning where older students are able to be facilitators and mentors for younger students. This class also incorporates play and activities to build literacy, and math and science skills for children moving on to kindergarten.
Oaks meets 4 afternoons a week and tends to be mostly children who will attend kindergarten the following year. Oaks starts to introduce more structure and longer group activities and discussion. There is an emphasis on building literacy (including journaling and story creation and math and science skills).
Wildflowers (New for 2023-2024) is a unique enrichment class that cultivates wonder and curiosity and inspires emerging artists, scientists, writers, readers, and explorers! Wildflowers meets Fridays from 8:30 to 11 a.m.
Our goal at Families Together Cooperative Nursery School is to nurture the development of social, intellectual, language, creative and physical skills, while meeting each child's emotional needs in a safe and secure environment. We believe in the inclusion of children of all abilities and developmental levels and strive to create an environment that is appropriate and healthy for all children. We offer a wide variety of part-day core classes and auxiliary programs that students can attend in addition to their core class. School is in session early September through late May.
Each core class has two highly qualified teachers and one assisting parent/caregiver. FTCNS classes have between 16 and 18 students. Our low adult:child ratio allows teachers to know each child and to make their first school experience one that builds self-confidence, encourages respect for others and instills an enthusiasm for lifelong learning. Children are encouraged to pursue what they love while being introduced to new and exciting learning opportunities.
Each core classroom schedule includes:
Opening Group/Circle Time –

 includes a variety of songs, group games, group literacy, art, math, or science activities, discussions, and daily class routines

Gross Motor Time –

outdoor play or play time in the gym during inclement weather

Classroom Play Time –

a variety of centers are set up with rotating themes throughout the classroom. Students are able to engage in activities of their choosing, while teachers intentionally guide and extend play and lead special projects.

Snack Time –

a healthy non-processed snack is served family-style to promote social skills and manners
Click HERE for the 2023-2024 application.